the WORLD'S GREATEST POLYMATH
A polymath is a person who has excelled in many diverse pursuits. They are not dilettantes because they achieve fluency and proficiency across multiple arts, disciplines, or fields of study. While many of them receive acknowledgement for their accomplishments (like Leonardo da Vinci) either academically, professionally, or both, many don't (like me!) The most important characteristic that sets them apart from merely ambitious individuals, according to researchers, is a drive and willingness to learn new things. I would add two more primary qualities: creative intuition or intuitive creativity, and a natural predisposition for the language of imagery and symbolism. Deep pattern recognition often reveals a heightened ability to see connections between things, people, and events not ordinarily discerned. This, in turn, enhances their ability to cross-over, gather, use, and share helpful information from many different fields of study.Watch the following short videos for a better understanding of the true nature of polymaths. Then the World's Greatest Polymath will be revealed!
All Power to the Polymath
Ella Saltmarche is a screenwriter, journalist, strategist, campaigner and entrepreneur. She is one of the founding directors of The Point People, a company that harnesses the power of those who work across disciplines and The Comms Lab, a platform for the communications industry to amplify its social impact.
PATHS TO POLYMATHY
Ben Vandgrift struggles daily with a compulsion to solve problems. His decades-old journey has most recently led him to Clojur, allowing him to solve many software problems elegantly and efficiently. He works as a software engineer when he's not being mauled by his rescue panther.
whO IS IT?
In so far as I can tell, there really is no "WORLD'S GREATEST POLYMATH." But that didn't stop me from trying to claim that title from THE GUINNESS BOOK OF WORLD RECORDS for reasons soon revealed. But first, WELCOME!
I'm Judy Kennedy aka waywardmuse - mystic polymath, wild and free. My application to Guinness was born of an almost harebrained idea and last ditch effort to preserve a legacy and to make a point. Guinness has a thick rule book regarding definition and specific protocol, so I had to research the feasibility of this idea very thoroughly. Here's a copy of the actual application:
CLAIM TO THE TITLE
Guinness initially requires that the application process be entirely online. Therefore, space limitations prevented me from presenting my case to the fullest extent possible. (Enlargement of document in pdf form accessible via linktr.ee/waywardmuse)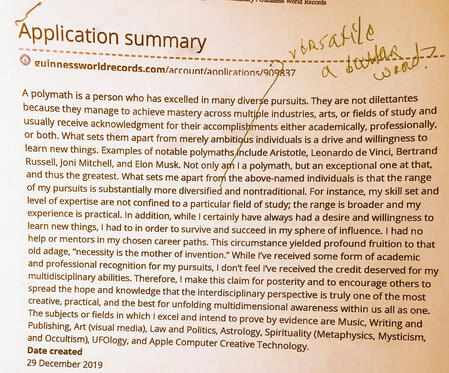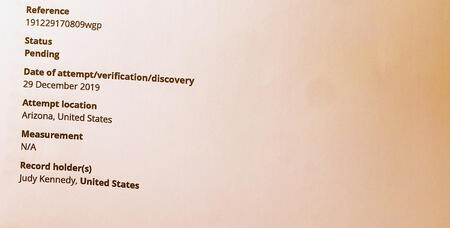 BREAKING IT DOWN
While the word count in the online form was limited, I would have further broken down the subjects or fields as follows:MUSIC- Songwriting and composition -
composing "New Age" music (late 60's, early 70's) before they named it
- Music literature and research (If the old TV show "Name that Tune" came back on for classical music, I'd win it!)
- Teaching / pedagogy (owned and operated music school)
- Performance: mainly piano which I had studied since age 5, but also guitar, violin, and voice
- Winner of Rusty B. Weir award for outstanding performance in piano, 1975
- Winner of award in American Song Festival, 1978
- Samples of my music may be heard on my YouTube channel where several videos contain soundtracks I composed - see link at linktr.ee/waywardmuseWRITING AND PUBLISHING- Poetry, prose, lyrics, plays
essays, political commentary (print)
- Creative Nonfiction: topical articles and feature stories (print and online)
- Monthly horoscope column (print)
- Paid published author (print) in the pre-digital age
- 3 books: (unpublished, self-published, other published)
Spiritual Practice, Occultism, and Extraterrestrial Intelligence: A Travel Guide for Beyond the Rainbow is available at Amazon and anywhere books are sold.
- Also, see other writing samples on my namesake website. (See links at linktr.ee/waywardmuse )VISUAL MEDIA AND ART- Videography
- Photography
- Graphic design
- Website design
- Links to my websites and stores showcasing my visual art at linktr.ee/waywardmuse.LAW AND POLITICS- Political commentary in local city newspaper
- Instructional articles on legislative protocol for industry newsletters
- First Texas female Socialist Party candidate for U.S. Senate
- Over 25 years experience as legal secretary and litigation paralegal (plaintiff and defense)
- Certified Legal Assistant certification with the American Bar Association
- Trainer of first year attorneys in litigation practice and procedure in prestigious law firms
- Successfully self-represented in court (Justice, Superior (state), and Federal)
- Public speaking: CTM and ATM in Toastmasters
- More information regarding these matters may be found under the "Law" section of my namesake website: judykennedy.comCOMPUTER TECHNOLOGY- Windows-based data entry, word-processing, and website design software
- Apple / Mac based software for creatives - creating, editing, and production of film, photography, music, graphic and website design
- Social media design in marketing METAPHYSICS, ASTROLOGY, AND UFOLOGY- Born a natural sensitive, psychic, empath, and shaman - developed own form of accurate divination at age 12
- Student and teacher of the Western Mystery Traditions since 1972 - including affiliations with Wicca, Unity Church of Esoteric Christianity, and successful completion of the B.O.T.A. curriculum (Builder of the Adytum - Temple of Tarot and Holy Qabalah)
- Student and practitioner of Astrology since 1970 - practiced professionally for about a decade; wrote monthly horoscope column for a print arts magazine
- Personal work and study under a highly acclaimed Lama in the Eastern Mystery Tradition of Dzogchen and Tibetan Vajrayana Buddhism
- Successful completion of the CSETI (Center for the Study of Extraterrestrial Intelligence) Ambassadors to the Universe Advanced Research Training
- Professor of Graduate UFO Studies at IMU (International University of Metaphysics)DEGREES, CERTIFICATIONS, AND CONTINUING EDUCATION- G.E.D. - College of the Mainland, Texas, 1974
- B.A. in Music, minor in political science and journalism, University of Houston, 1979
- M.A. in Interdisciplinary Studies (Music, Psychology, and Philosophy), 1982, North Texas State University
- Doctoral Studies in Music Therapy, Psychology, and Parapsychology,1979-1982 at Texas Women's University and N.T.S.U., Denton, TX
- Pioneered the study of Music Parapsychology and the Esoteric Psychology of Music (late 70's, early 80's) before its time (Today it's referred to as bioacoustics, neurophysiology of sound, sonic alchemy, Cymatics, sound healing, etc.)
- Published a pioneering and groundbreaking research paper in lieu of thesis based on an experimental study entitled: Sound, Color, and Imagery Correlations Manifesting in the Nature of Psi. Plans to present it at the U.S. Psychotronics Association conference in the summer of 1982 had to be cancelled due to illness. The actual study is included in Chapter 11 of my book, Spiritual Practice, Occultism, and Extraterrestrial Intelligence: A Travel Guide for Beyond the Rainbow.
- Certificate in Basic Bookkeeping, Alvin Community College, 1982
- C.L.A. - Certified Legal Assistant, 1995
- Certificate from CSETI, 2003I could have included two more areas where I am rather proficient:BUSINESSThe bookkeeping course in 1982 was directly a result of the brutal fall from the academic ivory tower. No one appeared to value what I was good at and I had to get a job to support myself. While I'd had miserable jobs working as a waitress and receptionist, I took that course so I could work at my mother's accounting firm. It's true that I learned to balance corporation bank accounts before my own! But the most valuable thing I learned from my mother was in how to be a "professional" in dealing with other people in all aspects - in and out of the business world. That's also where I learned quality control and a well-founded sense of principle and ethics. So I've always prided myself on those skills which have served me in all areas of my life, in spite of the fact that I grew up despising business and accounting and swore I'd never work in those fields! Actually, it was one of my first jobs. My father was also a C.P.A. and in high school I'd sometimes help out at his office during the summer. Also, I could fill a folder with countless employer reviews rating my skills and abilities as excellent, often exceeding expectations. While working as a temp I was often asked for by name by several companies and law firms that knew my work.NATURALISTAfter becoming disabled or deemed "unable to work" by the Social Security Administration in 2001 and therefore lapsing into deep depression, the only thing that made sense to me was Nature. Fortunately, I'd had the sense to buy some great real estate a couple years before — 4 acres by a huge swath of public land in a particularly scenic and remote part of the Sonoran Desert of Arizona. It was long walks in that desert where I began to heal and recover, spiritually speaking. I fell in love with this place and all its wondrous wildlife. I was one of the early pioneers on YouTube — Sonoran Desert Wildlife & More aka waywardmuse was founded on November 13, 2006 and is still going strong. Since that time, I've earned recognition as a Sonoran Desert naturalist, and have a wonderful working and growing knowledge of this desert's most diverse collection of animals, plants, minerals, and even clouds. Several websites have featured this fact, and ArizonaSonoranDesert.com is in the making!
GUINNESS' RESPONSE
SO how did Guinness respond to my application to be crowned with the title, "The World's Greatest Polymath"? They rejected it on the basis that this was not a title that could be subjected to metrics. I disagreed and asked them to reconsider. The conversation follows. (Again, enlargement of this document in pdf form accessible on my linktree page - see button at the end of this page.)
APPEAL FOR RECONSIDERATION
I asked to be given a chance to show them how they could measure and standardize this title, as that was their main objection, given their probable lack of familiarity with it.
I also volunteered to submit my evidence and documentation - much of it already online.
final decision
Guinness indicated that they still felt they would we unable to standardize the record on a global scale and continue to monitor it. I wanted to rebut again on the basis that there is a first time for everything, but knew they were done with this issue. That's all right. I'd made my point and was on record as the first person to try!MOVING ONWhy did I do this? I really didn't care about claiming that title because I knew it wasn't true. Furthermore, I knew about the less reputable background, behavior and motives of the Guinness organization. It's not one I'd want to be associated with in the long term. I did this only as a MEANS TO AN END. The whole idea and aim in applying for this title was to PRESERVE A LEGACY. I know I'm probably not the world's greatest polymath. I just didn't know any other way I could be recognized for all my talents and contributions to the world. With my death would be lost so much - no one would have ever really known me - not even my family! No one would have been able to find what I've done in order to receive the benefits. I've dedicated the merits of my work to the entire planet for the well-being of one and all. I could care less about titles. Otherwise I would have continued along the academic path and become a "Dr." I have no human children. My creative works (and domestic animals) are my children, and I just want them to bring hope, inspiration, and joy to the world in a way that I couldn't. It's my bodhisattva vow - my commitment to the Great Work that I made when I was just 16 years old. That vow is to serve - and I serve best through being true to myself - my polymathy. I can serve even better by bringing it to the attention of the world and especially others like me who have suffered under the oppression of a society that does not yet recognize our value.I wanted to bring notice to me and to the value of polymathy.When I realized that my special superpower was really being a polymath, it opened my eyes up to a world of possibilities - not just for me, but for everyone, as Ella Saltmarche and Ben Vandgrift emphasize in their videos. This is a power in each of every one of us. Some of us are blessed to be born with the stalk showing "above ground." With some of us, it's still a seed. But it's there. Don't you ever doubt it. All it needs is a little care and coaxing.
T0 BE CONtINUED. . .
This site is temporary. The original one that will be permanent and ongoing is still under construction. Until then, please feel free to peruse the links to my social media, custom websites, and various niche stores on my Linktree page. Thanks again for visiting and many blessings to you!
see enlarged copy of wanted poster on my Linktree page!
© Judy Kennedy, 2022. All rights reserved.